Finners
A Finner is a Bluetooth Low Energy device to find your belongings that you don't want to lose. It also shows the local temperature.
Together with the Finner App, which you can download for Free from the Appstore or Google Playstore, you let your Finner work for you. With the QR-code of your guide (and your Free Finner App) you connect your Finner to your mobile. You can personalize your Finner just for yourself or set it open to others. The Finner App on your mobile always gives the temperature and the last location your Finner make contact with your mobile.
You can also leave a personal message on your Finner like a note, a poem, a photo or a video message. Others can read or see your message when their mobile is close to your Finner.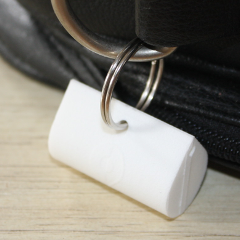 ---
Showing 1 to 3 of 3 (1 Pages)